All of our upcoming events at a glance! Also see what's happening in the community through other local organizations.
Cooking for One! Part 1
Tuesday, October 12, 2021 at 10:30am - 12:30pm
Via Zoom
55+ Event Seniors are you finding it difficult to cook for one? Join Hope 4 the Future - Seniors Wellness & Bridging the Gap for their 2 part Cooking for One events over Zoom! October 12 & 14 from 10:3...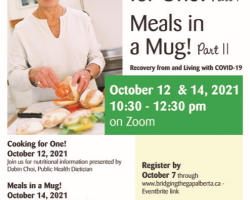 Other Community Calendars