Compass for the Caregiver Online
| | |
| --- | --- |
| | Wednesday, May 25, 2022 - 1:30pm - 3:30pm |
| | Repeats May 11, 2022, May 18, 2022, May 25, 2022, Jun 1, 2022 See all dates |
| | Add to Calendar |
| | |
| | Registration free for local residents. Outside residents $55 |
| | Online |
| | Please register. 4 week course |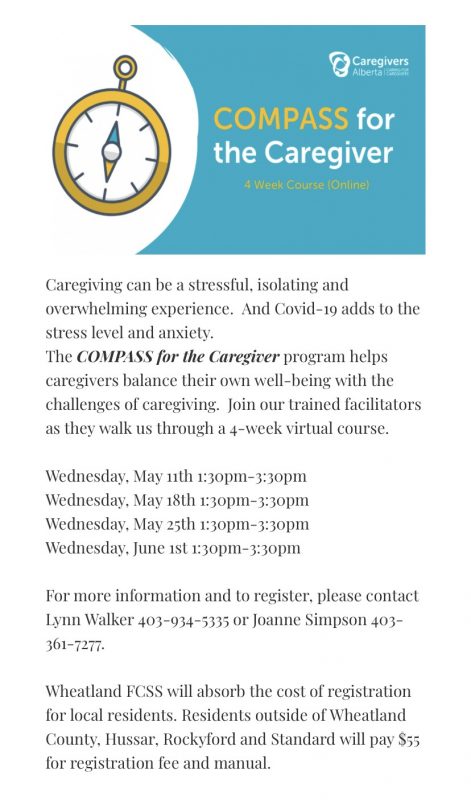 Event Description
Caregiving can be a stressful, isolating and overwhelming experience. And Covid-19 adds to the stress level and anxiety.
The COMPASS for the Caregiver program helps caregivers balance their own well-being with the challenges of caregiving. Join our trained facilitators as they walk us through a 4-week virtual course.

Wednesday, May 11th 1:30pm-3:30pm
​Wednesday, May 18th 1:30pm-3:30pm
Wednesday, May 25th 1:30pm-3:30pm
Wednesday, June 1st 1:30pm-3:30pm

For more information and to register, please contact Lynn Walker 403-934-5335 or Joanne Simpson 403-361-7277.

Wheatland FCSS will absorb the cost of registration for local residents. Residents outside of Wheatland
​County, Hussar, Rockyford and Standard will pay $55 for registration fee and manual.
Contact Information
| | |
| --- | --- |
| | Wheatland FCSS and Caregivers Alberta |
| | See notes |
Additional Event Dates
This event is also occurring on the following dates:
No occurrences found for this timeframe (next 6 months from today).