Wheatland Meals on Wheels Frozen Program Order Date
| | |
| --- | --- |
| | Friday, September 29, 2023 - 9:00am - 3:00pm |
| | Repeats May 1, 2023, May 15, 2023, May 29, 2023, Jun 12, 2023, Jun 26, 2023, Jul 10, 2023, Jul 24, 2023, Aug 4, 2023, Aug 21, 2023, Sep 1, 2023, Sep 18, 2023, Sep 29, 2023, Oct 16, 2023, Oct 30, 2023, Nov 13, 2023, Nov 27, 2023, Dec 11, 2023 See all dates |
| | Add to Calendar |
| | |
| | Cost varies by product. See website |
| | Must be ordered by phone or see options online by 3pm on order date. |
| | For Wheatland County Residents |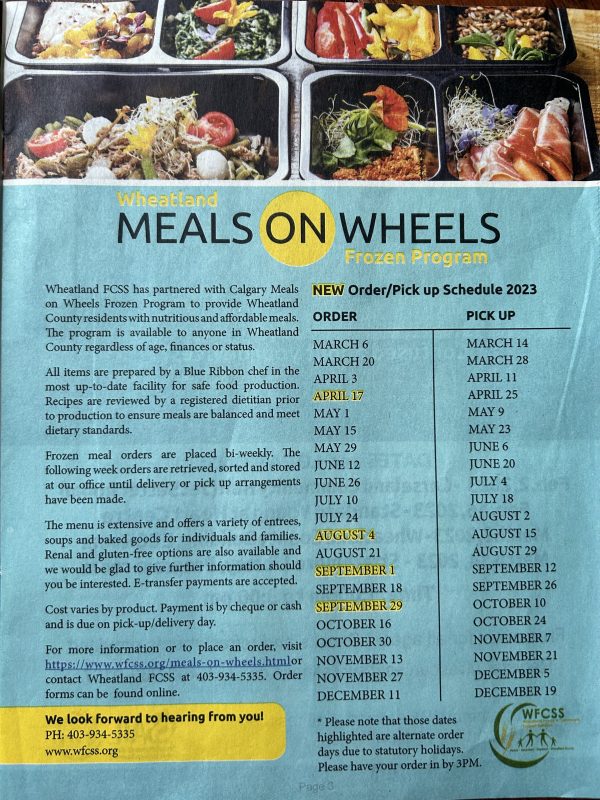 Event Description

Wheatland FCSS is partnering with Calgary Meals on Wheels to provide Hussar, Rockyford, Standard and Wheatland County residents with nutritious and affordable meals.
​
The Wheatland Meals on Wheels - Frozen Program is available to everyone, regardless of your age or finances or status.
​COST
Costs vary by product. See website for payment.
See website for order dates and pick up.
Https://www.WFCSS.org/meals-on...
Contact Information