10th Annual Rosebud Chamber Music Festival
Wednesday, July 6, 2022 - 5:00pm - 9:00pm

Repeats Jul 6, 2022, Jul 7, 2022, Jul 8, 2022, Jul 9, 2022, Jul 10, 2022 See all dates
Add to Calendar

Rosebud, Alberta
View on Google Maps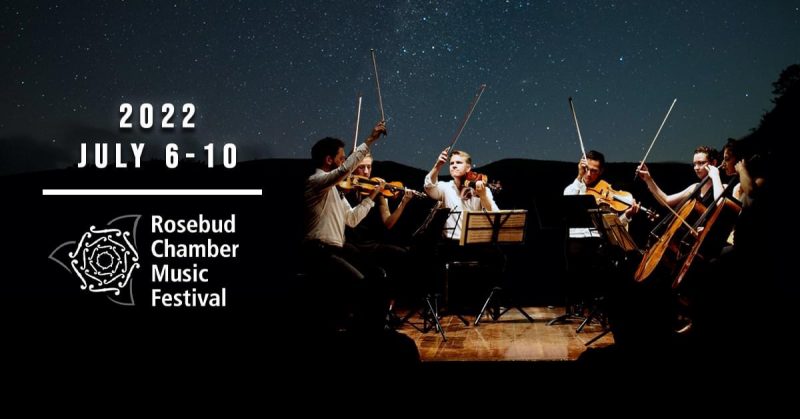 Event Description
The Rosebud Chamber Music Festival is pleased to present our 10th year of chamber music in Rosebud! After two years of playing on Rosebud's beautiful outdoor stage, we are thrilled to be back in some of our favourite Alberta venues.
This year the Rosebud String Quartet is joined by pianist Philip Chiu, one of Canada's most celebrated pianists and chamber musicians, with an unparalleled stage presence and ability to connect with audiences. Familiar Rosebud favourites including cellist Julie Hereish, and violinists Robert Uchida and Laura Veeze will also be performing in a week of concerts not to be missed. Make your plans to join us from July 4th - 10th!
To book your tickets, call 1-800-267-7553 or visit tickets.rosebudcentreofthearts.com!
Schedule of Events:
Wednesday, July 6th @ 7:30pm | Three Hills Arts Academy | Three Hills, Alberta
Friday, July 8th @ 7:30pm | Strathmore United Church | Sponsored by The Vault Cultural Collective | Strathmore, Alberta
Saturday, July 9th @ 10:00pm | Featuring TRANSFIGURED NIGHT by Arnold Schoenberg | The Akokiniskway Gallery | Rosebud Alberta
Sunday, July 10th @ 7:30pm | Rosebud Church | Rosebud, Alberta
Contact Information
Additional Event Dates
This event is also occurring on the following dates:
No occurrences found for this timeframe (next 6 months from today).