Sunday Public Skate
Sunday, March 26, 2023 - 2:30pm - 3:30pm

Repeats Dec 11, 2022, Dec 18, 2022, Jan 1, 2023, Jan 15, 2023, Jan 22, 2023, Feb 5, 2023, Feb 12, 2023, Feb 26, 2023, Mar 5, 2023, Mar 12, 2023, Mar 26, 2023, Apr 9, 2023 See all dates
Add to Calendar
Free

Strathmore Family Centre
View on Google Maps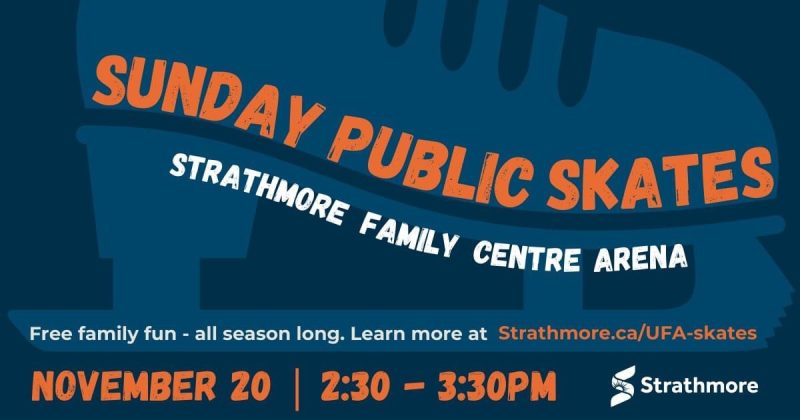 Event Description
Thank you UFA Co-operative! They're investing in our quality of life by sponsoring a season of free Sunday Public Skates. Everyone's welcome - shout out to Siksika Nation Administration and Wheatland County! We're kicking off the series this Sunday, November 20 from 2:30pm - 3:30pm.
Helmets keep your noggin safe! If you're under 18 you need a helmet when you're on the ice. Over 18? We still recommend them for you too.
Thanks again to our friends at UFA - we hope to see you at the rink this winter!
Additional Event Dates
This event is also occurring on the following dates:
No occurrences found for this timeframe (next 6 months from today).