All of our upcoming events at a glance! Also see what's happening in the community through other local organizations.
Coffee and Chat (55+)
Tuesday, October 19, 2021 at 10:30am - 11:30am
Zoom
English Conversation Café (Intermediate)
Tuesday, October 19, 2021 at 11:00am - 12:00pm
On-line Event
Begins October 5 Speak English well? Want to improve your vocabulary and be more comfortable having a conversation? This on-line meeting focuses on speaking and listening skills in a conversational setting. You will meet others and practise asking and answering...
Better Sleep Please
Tuesday, October 19, 2021 at 1:00pm - 3:00pm
Strathmore Municipal Library
Free 55+ Event Join speaker Joanne Simpson, AHS - Mental Health , as she provides some tips on how to get a better more restful sleep October 19, 1:00 - 3:00 pm at the Strathmore Municipal Library Pre Registration is...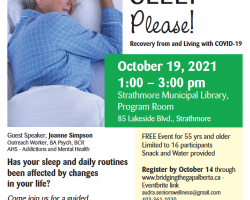 Other Community Calendars