All of our upcoming events at a glance! Also see what's happening in the community through other local organizations.
Toddler Time
Wednesday, October 20, 2021 at 9:30am - 10:15am
Strathmore Municipal Library
Help your child learn about letters, numbers, colours, shapes, and more with books, songs, and rhymes! This free program is for children 1 to 3 years old and their parents/caregivers. Help us plan. Registration appreciated. Drop ins welcome. Register at...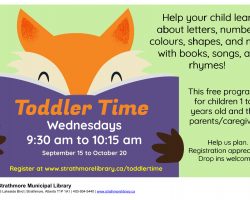 Self Care Toolkits
Wednesday, October 20, 2021 at 4:00pm - 6:00pm
Trellis Commons
Self care is so important especially in times like now. Join HOPE 4 THE FUTURE in making your own self care kit October 20 & 27 at the Trellis Commons building here in Strathmore! This event is FREE and open...
Other Community Calendars