All of our upcoming events at a glance! Also see what's happening in the community through other local organizations.
Words to Live By With Collaging
Thursday, October 21, 2021 at 4:00pm - 6:00pm
Wheatland Society of Arts
#WellnessWednesday Get your wellness on and join the WORDS TO LIVE BY WITH COLLAGING Event offered through Hope 4 the Future & Wheatland Society of the Arts! This event is FREE and open to young peoples ages 15-24. Create your...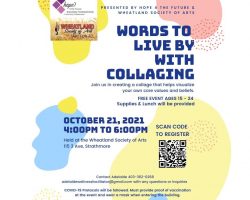 Other Community Calendars