All of our upcoming events at a glance! Also see what's happening in the community through other local organizations.
Hit the Snooze Button
Thursday, October 28, 2021 at 4:00pm - 6:00pm
Strathmore Municipal Library
HOPE 4 THE FUTURE is running a FREE EVENT on how to get a good nights sleep! Sleep is needed for day to day functioning and developing healthy sleep habits is essential! Event open for young people ages 15-24 😊...
Stampede Fright Night
Thursday, October 28, 2021 at 5:00pm - 9:00pm
Strathmore Ag Society Grounds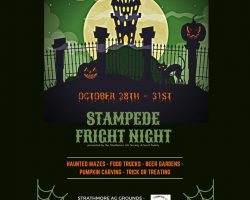 Other Community Calendars